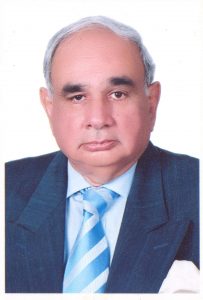 Mr. M. Younas Khan
Chairman and Chief Executive Officer
M.Com. F.C.A. (England & Wales)
The Institute of Chartered Accountants of Pakistan (ICAP)
Fellow of Institute of Bankers of Pakistan (FIBP) 
E-mail: chairman@surveyscale.com.pk
Mr. Muhammad Younas Khan is the Chairman and Chief Executive Officer of MYK Associates (Pvt.) Ltd, a company registered under the law of Pakistan Companies Ordinance 1984 and incorporated September 2000. Mr. Khan has years of professional experience in the banking and corporate sector combined and heads the MYK Group of Companies with other professionals. 
Formerly Mr. Khan has been the Country General Manager of Deutsche Bank in Pakistan. He has also been on the Board of Directors for the Oil and Gas Development Company Limited (OGDC), and National Refinery Limited (NRL), two of the largest companies in the Oil Sector of Pakistan.  
A Chartered Accountant by Qualification from England and Wales (FCA), Mr. Khan is a banker by profession. He is also a Fellow of the Institute of Bankers in Pakistan (IBP), and the Institute of Chartered Accountants of Pakistan (ICAP). He is accredited with having completed his Masters from the University of Punjab. Mr. Khan is well reputed in the Banking and Corporate sector, local business circles and the Government of Pakistan.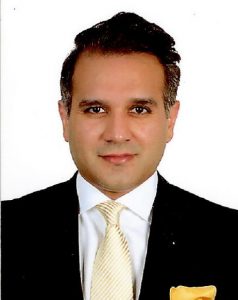 Mr. Fahd Ali Khan
Chief Executive Officer
E-mail: ceo@surveyscale.com.pk
Mr. Khan has a Bachelor of Science, Finance & Quantitative Methods from Foster College of Business Administration, Bradley University in Ilinois, USA. He has vast experience in Business Statistics and Forecasting, Liquidity Management, Securities Analysis, Financial Strategy, Portfolio Theory, Derivatives and Risk Management, Operations Management, Commercial Bank Management, Financial Strategy, Portfolio Theory and Commercial Bank Management.
Mr. Khan's current and previously held experience is as follows:
SURVEY SCALE (PVT.) LIMITED – SSL
An ISO 9001:2015 certified company SSL is approved by Security and Exchange Commission of Pakistan engaged in providing services as Loss Adjusters, Surveyors, and Inspections in all Classes of Insurance to the Insurance Industry of Pakistan. 
Working as a Chief Executive Officer, managing business processes corporate strategy, budgeting, targets on a nationwide level.
MYK ASSOCIATES (PVT.) LIMITED – MYK
An ISO 9001:2015 certified company, MYK is approved by Pakistan Bank's Association (PBA) as a NO LIMIT company engaged in providing services of Evaluations, Inspections, Collateral Management, Surveyors  Consulting Engineers and Clearing and Forwarding agents to the Financial Sector, Professional and Business Sector of Pakistan
Mr. Khan is an Executive Director, managing business processes on a nationwide level.
OTHER EXPERIENCES HELD:
INTERASIA Leasing Company Limited

ABN-AMRO Bank, Karachi, Pakistan

ABN-AMRO Brokerage House, Karachi, Pakistan

KARACHI STOCK EXCHANGE, Karachi, Pakistan

DEUTSCHE BANK, Karachi, Pakistan
Engr. Iftikhar Ahmed
General Manager 
B.E. (NED), L.L.B., L.L.M.
MIEP, PE (PEC), MIEEE (PAK)
E-mail: iftikhar.ahmed@surveyscale.com.pk
Engr. Iftekhar Ahmed is a certified Professional Engineer (PEC) graduated from NED University of Engineering and Technology, Karachi has a vast experience of Surveys and Inspections of Power Plants, Transmission and Distribution Lines. He has vast experience of Supervisions, Inspections as well as Valuations He has served in prestigious organization in Pakistan, Saudi Arabia and UAE (Dubai). He has acquired training from ABB at Dubai, UAE In "Power Control and Management System" and "Assets Handing Procedures". He is also legally qualified as a LL.B, LL.M. and having expertise of agreement and Contracts writing. He is well conversant to coordinate with private and public authorities and departments to settle the issues and to get matter resolved. His affiliations with the approved bodies are as below:
Professional Engineer (PEC).
Member IEEE (USA).
Member IEP Karachi Pakistan.
Mr. Uzair Rahat Siddiqui
Assistant Manager – Claims
E-mail: uzair.siddiqui@surveyscale.com.pk
Mr. Uzair is a senior loss adjuster at Survey Scale (Pvt.) Ltd – SSL. He is certified IFCE of the Insurance Foundation Certification Program. His experience includes having worked 14 years as Claims Manager in Ace Arabia Cooperative Insurance Company, Kingdom of Saudi Arabia. Mr. Uzair's technical qualification includes having two years certified course in Machine and Mechanism from Metallurgy Training Centre (MTC), Pakistan Steel Mills, Karachi, Pakistan. He is also proficient in Property Claims arranged by Munich Re in Jeddah, KSA. Mr. Uzair is also adept in Fraud and Business Integrity and Financial Crime.
Mr. Muhammad Hussain Barar
Senior Insurance Surveyor / Loss Adjuster
E-mail: hussain.barar@surveyscale.com.pk
Mr. Muhammed Hussain Barar is an experienced senior surveyor in all classes of insurance. Being a member of our senior management team, he also has the experience of pre/post shipment cargo of more than 20 years. He has the experience of conducting surveys and inspections of various agricultural goods, textile goods, sugar, cotton, rice, canola seed, etc. He has gained vast knowledge of loading / unloading of marine cargoes, marine in-land transit, box containers, tank containers, flat-rack containers, reefer containers. 
He was associated with following companies for surveys & inspections during this period:
M/s Pakistan Inspection Co (Pvt) Ltd.
M/s Rafique & Associates (Pvt) Ltd.
M/s United Marine Surveyor (Pvt) Ltd.
M/s Joseph Lobo Surveyor (Pvt) Ltd.
Mr. Barar also has the experience and expertise in settling the following claim types:
Marine surveys of general cargo of import / export.

Quality & quantity surveys of refined sugar, wheat, urea, edible oil, cement, canola seeds and flour.

Loading / Unloading supervision of much kind of marine cargoes.

Inspection, assessments as well as adjustments of box containers, tank containers, reefer and flat-rack containers.

Surveys of in-land transit marine cargoes.

Pre/Post insurance inspection surveys.

Surveys of accidental death and other miscellaneous surveys.
Mr. M. Sharjeel Siddiqui
Manager Operations
E-mail: sharjeel@surveyscale.com.pk
Mr. Siddiqui is a Bachelor of Commerce from University of Karachi. He possesses fifteen years of diversified experience in the fields of Accounts, Finance, Insurance and Administration. He has been overseeing operations of NBFI, listed on the stock exchange, as a Chief Financial Officer / Company Secretary during last two years and is very well conversant in Corporate and Insurance affairs.
Capt. Tariq Ghani Siddiqui
Master Mariner Director – Marine Services
Ex –Fleet Manager of ORS Corporation, Karachi
Mr. Ghani is fully conversant and capable of handling ship management matters, comprising of ship repairs, ship surveys, classification surveys (hull and machinery), PNI Club surveys, third party surveys, damaged cargo surveys, cargo handling, chartering matters, crew recruiting, pre-purchase inspection of ships, sale and purchase of ships, flag registration of ships, ISM documentation, certification and ISPS matters.
Mr. Ejaz Hussain
Manager & Senior Loss Adjuster
Motor Claims & Pre-Inspections Dept.
E-mail: ejaz@surveyscale.com.pk
Mr. Ejaz has over an experience of a decade in settling motor claims for different Insurance Companies of Pakistan. Prior to joining our company in 2010, he worked at Suzuki Nadeem International Motors as a Senior Executive, Business Support Dept. Mr. Ejaz looks after all management operations pertaining to motor and pre-inspections and assists his team for a smooth flow of work process.